As you may have noticed, window treatments are my passion. I love every step of the custom creation process, from selecting fabrics with the client to designing and sewing the final product here in my workroom. For twenty-eight years, I've enjoyed creating custom window treatments for every type of room and style home possible.
Even though ready-made window treatments are becoming more and more available in stores, I truly believe that custom window treatments are a far better investment for your home. They are luxurious and beautiful, with a made-to-order fit that simply can't be found in any mass produced product. Read on to discover some of the key differences between custom window treatments and ready-made and why custom window treatments always showcase a high quality end product.
What makes a custom window treatment truly custom-made? I have come up with five main components that make custom window treatments stand out from ready-made products. Here at KH Window Fashions, we incorporate all five components into every window treatment that leaves our workroom. When compared to the limitations presented in ready-made treatments, custom treatments reflect a loving investment into creating the home of your dreams.
One:
Custom window treatments are designed to fit your window. Whether you have arched windows or tall windows, custom treatments can accommodate any window structure. Ready-made, on the other hand, mostly come in predetermined lengths such as 84, 96, or 108 inches. Plus, ready-mades usually fit a range of widths, rather than the exact measurement of your windows.
Two:
You can expect better quality workmanship with custom window treatments. One of the trademarks of a KH Window Fashions design is pattern matching. That means the pattern motif is centered within the treatment and matched at all seams. Plus, every treatment within the room is matched to the exact same pattern motif to give them a uniform appearance. Pattern matching takes time and expertise and is not commonly found on ready-made treatments.
Three:
In custom window treatments, our standard lining is a flannel interlining and soft blackout lining. The lining protects the fabric from sun damage and keeps the coloring consistent throughout the treatment so the sun doesn't bleed through the fabric. If lining is included on ready-mades, it is usually too thin to make an impact.
Four:
Fabric quality is also a main concern in custom window treatments. We have a wide selection of fabric patterns and types, with new samples arriving daily. When working on a treatment, I hand-select fabrics that fit both your home and your window style. In a custom window treatment, the possibilities are endless. Ready-made treatments are limited to a smaller selection of patterns and fabric types.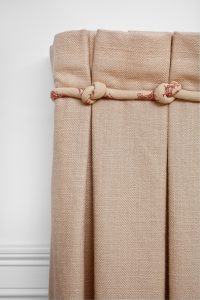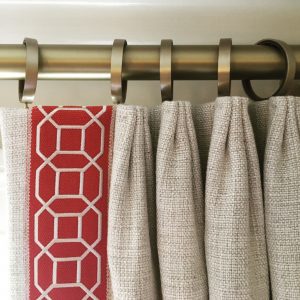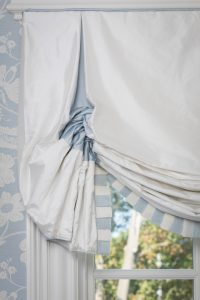 Five:
It's all in the details. This has been the motto of KH Window Fashions for twenty-eight years. Custom window treatments are full of tiny, specific details that set the treatments apart from the rest. Details like trims, cording, ruffles, and more are unique to custom treatments. No two houses ever receive the same treatment; each custom window treatment is tailored down to the tiniest details to fit the client's needs and vision.
Custom window treatments are a unique home feature that will bring you joy every time you look at them. Each detail is inspired by you and your home to bring you the most beautiful and luxurious windows possible. From shape to style, custom window treatments are by far a higher quality than store bought ready-made draperies and valences.