Happy New Year!  Every January,  I look forward to writing my newsletter and unveiling to you  the NEW color of the year.  Since 2000, the Pantone Color Institute has been designating a color of the year to 
express in color what is taking place in the global trends. This year, Pantone has embraced nature's favorite color, Greenery.
Greenery is a color of restoration and renewal. Acting as a true neutral for nature, it promises reassurance while also inviting the chance to rejuvenate. Many people are exhausted after the events of 2016, and Greenery represents the chance to recover and surround ourselves with beauty.
Pantone has pulled this neutral color to the forefront to encourage reconnecting with people and reconnecting with nature. With Greenery, we will find the opportunity to pause, take a breath, and revitalize.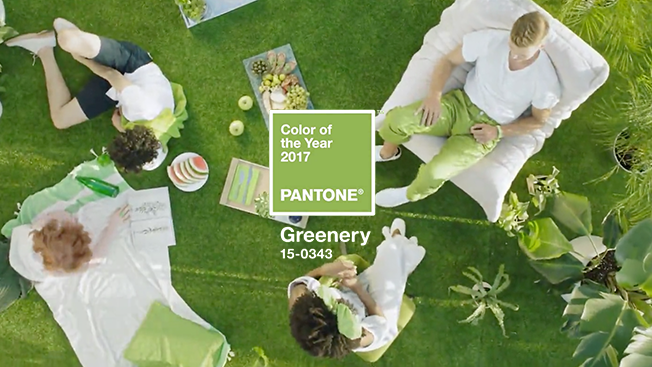 There are many beautiful fabrics and trims to choose from.  Get a window treatment for your bathroom or toss a few new pillows on to your sofa or bed.
Pantone's Greenery is a truly versatile shade that lends itself to many color combinations. It can be paired with neutrals, brights, deeper shades, pastels, and more.
Watch this shade easily cross over fashion, beauty, fabric, interior design, and graphic design.
Want to see more fun ideas? Check out our Pinterest board  for other exciting ways to decorate and accessorize with the new 2017 colors. Happy New Year!